About Us - Meet The Team
Claire McGurk - CEO & Owner 
The Award Winning and dynamic Owner and CEO of Diva Spa, embarked on her online entrepreneurial journey in 2021, driven by an unwavering passion for skincare. Her dedication goes beyond curating the finest products; she crafts her own, ensuring the highest standards of quality.
Every creation is rigorously tested in CPSR labs, comprehensively insured, and fully CLP compliant where required.
In addition to her thriving online presence, Claire oversees a thriving brick-and-mortar establishment, a testament to her business acumen. It's remarkable to reflect on how this remarkable journey began with a modest selection of nail wraps and press-on sets, ultimately giving rise to the flourishing empire that is Diva Spa.
Annette Hopkins - Crystal Therapist/ BP
Annette Hopkins, Diva Spa's esteemed In-House Qualified Crystal Therapist and valued Business Partner, shares a longstanding friendship with Claire. Her profound expertise in crystals and Crystal Therapy guarantees that Diva Spa offers nothing but the utmost in quality, accompanied by authentic and reliable information. With Annette at the helm, clients can trust that they are receiving not only exquisite crystals but also the invaluable insights that come with them. Her presence is a cornerstone in upholding Diva Spa's commitment to excellence.
Rona Wood - Managing Director

Rona, with an extensive 20-year background in MLM, brings a wealth of experience to our team. She successfully operated her own Small Business Boutique for several years before integrating her clothing line into Diva Spa. Her unwavering passion for skincare was a natural fit with Diva, and since joining, she's been driving us forward.Rona takes charge of ensuring seamless operations for the Website, Company, and our Diva Team. She places great emphasis on the well-being, training, and support of our Ambassadors. Looking ahead, she will collaborate with Claire in the production of our skincare products.

In addition, Rona takes a keen interest in overseeing all aspects of Graphics and Branding, ensuring Diva Spa maintains a polished and professional company theme. Her dedication and expertise play a crucial role in shaping the identity of our brand.
Rosie Lawton - Social Media Manager
Rosie's introduction to Diva Spa began with a purchase from one of our dedicated Ambassadors. Instantly captivated by our Press On Nail sets, Rosie, a devoted mother of three, expressed that they not only added a touch of beauty to her busy life but also made her feel truly special. This initial affection soon blossomed into a deep appreciation for our entire product line. Her unwavering dedication and passion propelled her through the ranks within Diva Spa's promotional structure. Rosie's affinity for the company runs so deep that she generously volunteered to take on the crucial role of Social Media Manager, further enhancing Diva Spa's online presence and community. Her story stands as a testament to the profound impact Diva Spa has on its patrons.


Carly Vickers - Nail Technician 
Carly embarked on her nail journey in 1991, delving into the world of fibreglass and acrylics through personalized training with NSI and Ka-Sa-Ra. Initially, she catered to a clientele primarily comprised of mobile and home-based appointments until she took the momentous step of establishing her own nail salon in Elmers End. This venture flourished until 2003, when her lease came to an end.

Throughout her time as a salon owner, Carly pursued further education at Carshalton College, enriching her knowledge in Beauty Therapy. She also honed her skills through courses at the Jessica Nail Academy, mastering the art of manicures. Over the years, she engaged in a variety of one-day workshops with Capital and Salon Services, expanding her expertise in nails, nail art, lashes, and brows—areas she is currently in the process of refreshing.

Carly is now a cherished addition to the Diva Spa team, serving as our In-House Nail Technician. Her role involves sharing her wealth of knowledge, providing expert advice, and delivering top-notch training to our staff and clients alike. We consider ourselves incredibly fortunate to have Carly contribute her exceptional skills to enhance the quality of service at Diva Spa.


Grace Kennedy - Social Media Manager 
Grace became part of the Diva Spa family driven by a genuine fascination for our products. Her enthusiasm not only resonated with her customers but also propelled her swiftly up the promotional ladder. She built a dedicated team and devoted considerable effort to refining our lucrative compensation plan.

Grace's love for the company, its products, and the team she's surrounded by, ultimately led her to express her desire to contribute even more. She sought to invest her time and skills in aiding Diva's growth by taking on the role of Social Media Manager for the company's page. Her dedication and passion are invaluable assets to our continued success.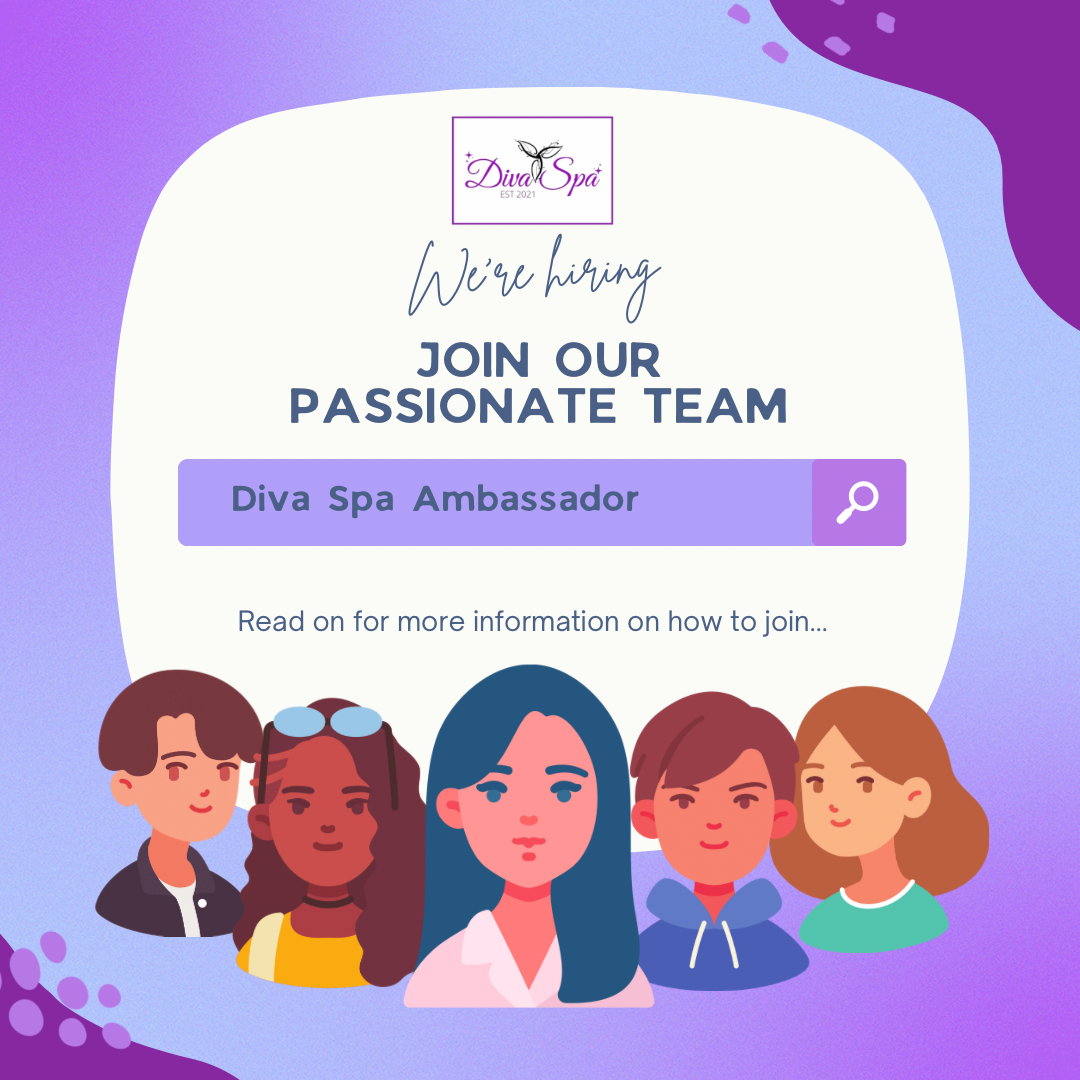 Due to the current economic climate, more people than ever are seeking a second or third additional source of income. For those wishing to earn some extra cash, Diva Spa offers a great earning potential.

We have one of the best pay systems in the Small Business MLM Industry, regardless of whether you want to grow a team or engage in personal sales. Sign up HERE and become part of our Divahood and read on to see what's in store for you as an Ambassador.
Join Us
Earning Potential
Our Compensation Plan offers a great opportunity for earning potential and is designed to help you maximize your income. With realistic, attainable goals, you can reach your financial objectives and make a difference in your life. The plan offers an attractive reward structure that rewards you for your efforts and encourages you to reach your goals. It is also designed to help you develop a long-term strategy to ensure that your earnings continue to grow over time. With the right combination of hard work, dedication, and determination, you can reach your goals and earn more with our Compensation Plan. Whether you are looking to supplement your income or start a business, our plan provides you with the opportunity to do so. No matter your objective, you can find success with our plan and start earning more with realistic attainable targets.
Personal & Team Bonus'
At our company, we have designed a comprehensive and attainable bonus structure that will enable you to hit targets regardless of whether you have joined us on a personal level or as part of a team building effort. 
Our bonus structure is designed to reward employees for their hard work and dedication, and to encourage them to strive for continual improvement. It is designed to be flexible and can be tailored to fit the needs of the individual or team.  We reward  performance that is above and beyond what is expected, as well as those that are on track to reach their goals. 
We believe that by providing employees with a comprehensive bonus structure, we are creating a strong team environment where everyone is motivated to reach their goals and to help the company succeed.
Downline Compensation Plan
With our Downline 3 Tier Earning structure, we have taken team building to a whole new level. Our system allows you to earn a substantial income through building your own team. You can start by simply recruiting people into your team and then you can start earning commissions on their efforts. As each of your team members recruit more people, you will earn more and more commissions from their efforts. This is a great way to create a residual income that can help you build a financial future. With our system, you don't have to limit yourself to just two people. You can build a large team and earn even more commissions. It's easy to get started and the potential for earning is limitless. So, take advantage of our Downline 3 Tier Earning structure and start building your own team today! Please note Team Leaders must accumulate £25 of personal sales per month in order for commissions to be paid out. 
Inactive Ambassadors
If you have been an ambassador with us but have not made any sales within the last 6 months, your account will be revoked. To return to earning with us, you will need to re-join with one of our starter kits. The starter kits are designed to provide you with the tools you need to get back on track, and they are also perfect for new ambassadors who are just starting out.

Re-joining with one of our starter kits will ensure that you have the best chance of success. With the right tools and knowledge, you can start building your business and making sales again. So, if you want to get back in the game and start making money again, join us with one of our starter kits.